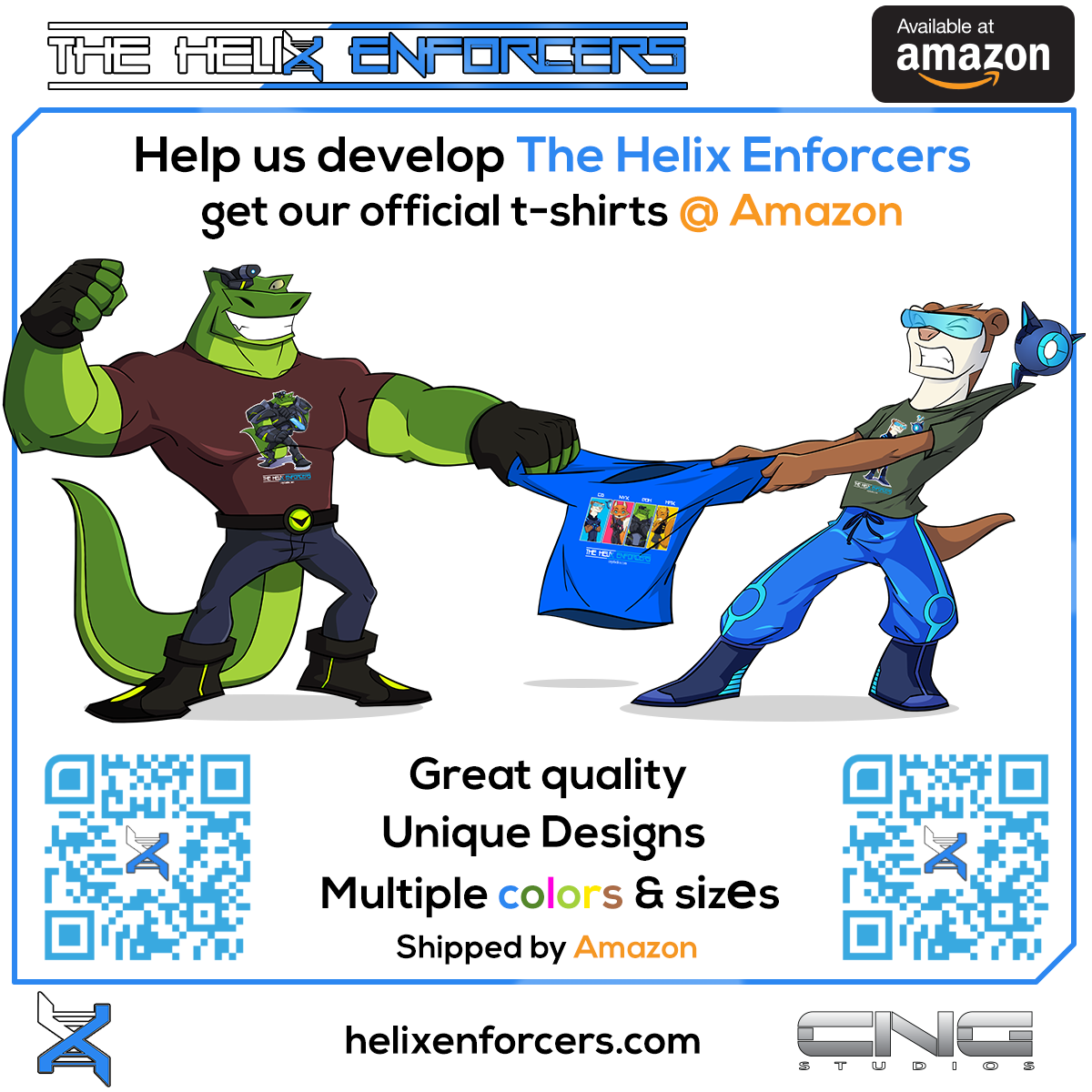 Did you know that you can get a The Helix Enforcers original t-shirt at Amazon.com right now??? What?! Yes, that is right!!! But you may have some questions and we wanted to let you know how the project is going.
"But… wait!… aren't you still working on the game? When did it release?"
The Helix Enforcers has not released yet, you are right. You may have seen our demo on multiple events, like GaCuCon '17, Orlando iX, Magic, GAAM, etc. and we are working towards a release date; however, as we are a self-funded small indie studio, we are offering you a way to help us get more assets and graphics, you can get original merchandise which all profits will be invested into improving the game and complete different levels.
"Ok, I get it… but hey, why don't you do a Indie Go Go / Kickstarter campaign?"
We had thought about it, and we also have supported multiple campaigns from other creators and developers, but we always feel that there's too much time between providing you with a reward and the game and start the funding. We want to you to get a physical item immediately instead of having to wait for the release of the game. We have not discarded the option of Kickstarter, but we believe it would be better when we are in the last part of the cycle of development.
Purchasing a t-shirt will help us continue investing, without you having to wait for a long time to receive something. 🙂
"When can I pre-order The Helix Enforcers and for which console/devices will be available?"
Not yet… 🙂 we have heard this question multiple times and we wish we could tell you, immediately; we want you to have a very short period of time between pre-order and release, so we will keep that date close.
We will launch it for PC/MAC and we are also considering some consoles and Steam. A joystick will be highly recommended, as the feeling of the game is completely different when you use a mouse and a keyboard.
"How can I help with The Helix Enforcers?"
You can always help us by following us on Twitter, Instagram, Facebook and YouTube. Also, you can post about it and talk to your friends 🙂
We are working towards uploading some demo versions for PC/Mac, but there are really heavy in size at this moment… We also want to complete CB and Max, so the demo will give you the chance to understand and play all the characters available with a final feel for the look, feel and mechanics. We estimate that it will be some months before we complete this.
"I don't like t-shirts… is there anything else?"
We have been working in different things related to The Helix Enforcers universe, so we will have other items that are close related to the game, but it will be a completely different approach. Ok, I haven't give you any clue about it… right? Well, it is on progress, so we will announce it as soon as it is available.
As always, thank you for all your support and feedback during all the events. We are really excited about the game and also to see that all feedback is always positive. Thank you!